Flying visit makes for a dam' good show
5:30 AM Sunday Jan 23, 2011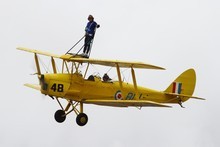 Pilots flew planes, rode on planes - and managed to stay inside upside-down planes - as the two-day Wings Over Wairarapa aviation festival started in front of 15,000 people yesterday.
About 60 aircraft took part, slightly down after poor weather around the country stopped some flying in to take part.
Some were from the Vintage Aviator collection, the world's largest collection of World War I aircraft, believed to be owned and funded by Sir Peter Jackson.
Also present was Tauranga war veteran Les Munro, the last surviving Word War II "Dambuster".
Munro is a consultant on a remake of the Dambusters movie being produced by Jackson. The show continues today.