'Beautiful' Viper has plenty of bite
5:30 AM Saturday Jan 22, 2011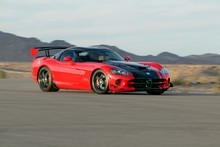 The new Dodge Viper sports car is going to be "drop-dead beautiful" and is aimed at drawing US buyers away from Europe's Porsche and General Motors' Corvette, Chrysler design head Ralph Gilles says.
He said the new-look Viper had been inspired by "a naked woman on the beach" and would be released next year.
"It's important for me to have a performance vehicle," said Gilles at the Detroit motor show.
He believes the new Viper will be profitable and that its sales volume isn't important. Research data shows Chrysler sold 392 Vipers in the US last year, down from 482 in 2009 and 1172 in 2008.
While production of the sports car ceased last July, the carmaker's five-year turnaround plan included the possibility of bringing it back in 2012.
Gilles, who has overseen the redesign or refresh of 16 vehicles since Chrysler exited bankruptcy in 2009, said he was worried his staff had grown stagnant and told them to take some time off.
"We've been working so fast that we're not innovating like we used to," he said.
The new Viper will not be using Ferrari engines.