'It's my body; no one tells me how much to show'
Last updated on: October 13, 2010 15:31 IST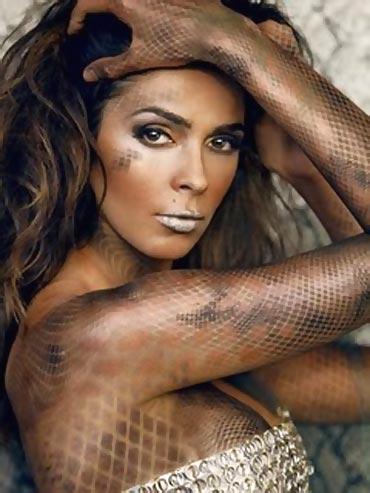 Ankur Pathak
in Mumbai
S

he has appeared in films that don't have anything extraordinary to boast of other than... her.
Leave aside the few of them, may it be a nocturnal bash at the New Year's or a raunchy item number that sets the mercury rising,Mallika Sherawat always manages to grab enough eyeballs.
With substantial international appeal, Madam M even today has eyes wide open that contain an excitement to leave behind many benchmarks.
She claims to become the big Indian superwoman who is sexy, venomous and who swallows the whole. Right now, she's slithering around swiftly with that trademark banter.
In an explosive session, she sits on the hot seat only to smoulder it into flames, getting refreshingly candid about her upcoming release,Hisss, her much-speculated ride in the West, and who has been her best on-screen kisser till date.
Image:
Mallika Sherawat in Hisss